A veces, es posible que los audiolibros de Audible.com o iTunes store estén en formatos especiales, lo que le da muchas restricciones desagradables. Por ese motivo, es necesario que convirtamos los audiolibros al formato AAC no protegido. Ondesoft Audiobook Converter puede hacerte un favor. Puede convertir audiolibros de cualquier tipo al formato AAC y eliminar la protección DRM de los audiolibros.
¿Cómo convertir audiolibros protegidos con DRM a un formato AAC no protegido en Mac con Ondesoft AudioBook Converter? Siga esta guía paso a paso.
Paso 1: instale Audiobook Converter
Primero, descargue gratuitamente Ondesoft AudioBook Converter y siga las instrucciones para instalarlo en su Mac. Los usuarios no registrados solo pueden convertir cada audiolibro durante 3 minutos. Compre una licencia aquí y obtenga la versión completa sin limitaciones. Aquí está el enlace para descargar y comprar la versión de Windows de Ondesoft AudioBook Converter . Después de la instalación, inicie AudioBook Converter y iTunes se iniciará automáticamente para que esté listo para que pueda convertir los audiolibros de iTunes.
Paso 2: seleccione audiolibros
Haga clic en "libros" debajo de la lista de reproducción y verá que todos los libros en su iTunes se mostrarán a la derecha de la interfaz principal, por lo que no es necesario agregar libros de audio manualmente. Ahora, puede elegir los libros que desea probar en la lista de libros haciendo clic en el cuadro de opción que se encuentra delante de cada libro.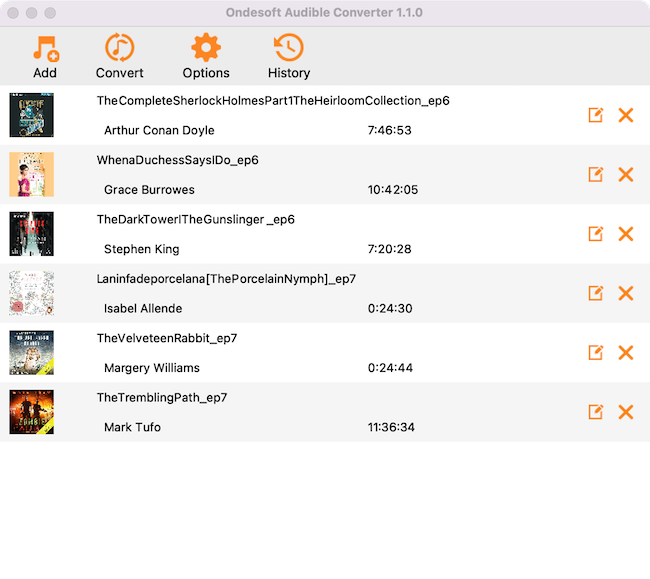 Step 3: set output settings
Choose AAC as the output format. If you want to modify output settings, just click "option" button, you will find all the output parameter here, such as converting speed, output filenames, profile and so on. Also, you can easily customize the profile settings as you wish in the main interface because output parameters are below the booklist in the main interface. Also ID tags and metadata information will be saved to the output MP3 and M4A files. Chapter information will never be lost in the converted M4A files.
Paso 4: comience a convertir
Haga clic en el icono "Convertir" en la parte superior de la interfaz principal para comenzar a convertir libros de audio a AAC. Ondesoft AudioBook Converter es capaz de realizar el trabajo restante y puede dejarlo solo y hacer lo que quiera.
Paso 5: buscar audiolibros sin DRM
Cuando se completa el proceso de conversión, podemos ir a la carpeta predeterminada (si no ha modificado) o a la carpeta elegida para encontrar los audiolibros sin DRM.