According to Audible, you can use Audible Manager to transfer your audiobooks to an Audible compatible device (i.e., MP3 Players, Garmins, SanDisks). However, Audible Manager is only available on Windows. What if you don't have a Windows? How to enjoy your Audible flipbook anywhere you want?
With Ondesoft Audiobook Converter, you can easily convert Audible AA/AAX audiobooks to MP3, M4A, FLAC, etc. It is extremely fast to convert Audible flipbook to M4A - Converting a 60-hour flipbook takes less than one minute. What a shocking speed!
The following tutorial will show you how to convert Audible AA/AAX Audiobooks to M4A with super fast speed .
Step 1: install Audiobook Converter
Free download Ondesoft Audiobook Converter and follow instructions to install it on your Mac.
Paso 2: seleccione Audible AA / AAX Audiolibros
Inicie AudioBook Converter para Mac y verá que todos los audiolibros en su biblioteca de Audiolibros de iTunes se mostrarán a la derecha de la interfaz principal, por lo que no es necesario que los agregue manualmente. Ahora, marque los audiolibros que desea convertir. Este audible AA / AAX AudioBook Converter para Mac admite la conversión por lotes, por lo que puede seleccionar tantos audiolibros como desee.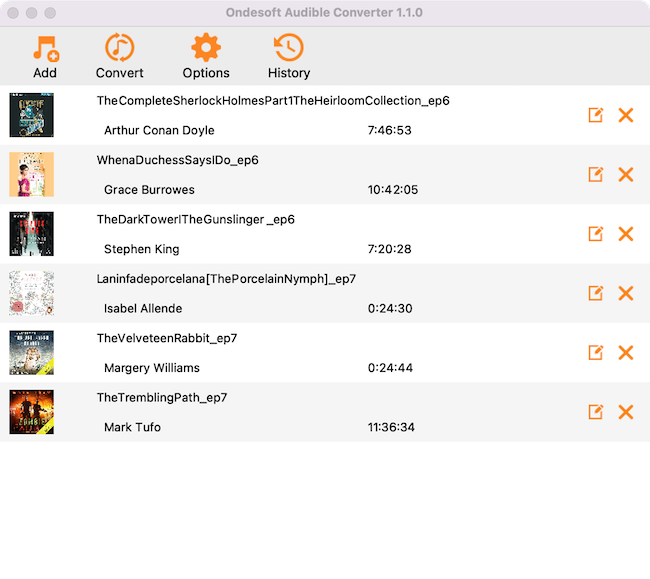 Paso 3: elija M4A como formato de salida
Haga clic en el botón desplegable Formato de salida y elija M4A. También puede elegir la calidad de audiolibro de salida (Alta, normal o baja) o personalizar la tasa de bits, la frecuencia de muestreo de acuerdo con sus necesidades.
Paso 4: comience a convertir
Haga clic en el icono "Convertir" en la parte superior de la interfaz principal para comenzar a convertir audiolibros a M4A. Obtendrá los audiolibros M4A sin DRM en un minuto.
Paso 5: buscar archivos de salida
Cuando se completa el proceso de conversión, podemos ir a la carpeta predeterminada (si no ha modificado) o a la carpeta elegida para encontrar los archivos convertidos.

Aviso: los usuarios no registrados solo pueden convertir cada audiolibro durante 3 minutos. Sin embargo, puede romper la limitación comprando una versión completa. Si también desea convertir canciones / audiolibros de iTunes M4P o canciones de Apple Music, descargue iTunes Converter para Mac o iTunes Converter para Windows .
Lee mas: